'The U.S. has turned on a shop vac to suck up incentive and we're standing here with a dust buster'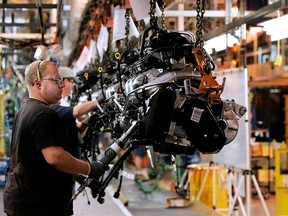 Article content
The U.S. Inflation Reduction Act will pour billions into the American manufacturing sector over the next few years and could trigger a flight of investment capital south of the border, as well as result in fewer manufacturing jobs in Canada, representatives from the Canadian automotive, steel and manufacturing sectors told a House of Commons committee Tuesday.
Article content
"The U.S. has turned on a shop vac to suck up incentive and we're standing here with a dust buster," Matt Poirier, senior director of the Canadian Manufacturers & Exporters, testified at a House of Commons trade committee on the potential trade impacts of the IRA on businesses and workers in Canada.
Article content
"We have to make a decision: Are we going to try and match or at least compete with that or are we going to let all that investment go south?"
Poirier appeared alongside industry and labour groups from the automotive and steel sectors to call on the federal government to introduce measures in response to the U.S. act as quickly as possible. They urged Ottawa to signal its intentions to make changes as early as the fall economic update scheduled for Nov. 3.
Article content
The bill, which passed the U.S. House of representatives in August, has little to do with inflation but will result in dramatic changes to the American economy in service of the country's climate goals through a mix of tax incentives, grants and loan guarantees aimed at boosting clean energy and clean transportation.
Initial wording in an earlier incarnation of the bill was extremely protectionist, but furious lobbying by Canadian officials succeeded in persuading U.S. lawmakers to soften some of the more rigid provisions — averting a disaster for Canada's automakers in the process.
Still, testifying before the committee, Scott MacKenzie, Toyota Canada Inc.'s director of corporate and external affairs, warned that the act in its final form could still penalize companies for choosing to build vehicles and batteries in Canada.
Article content
MacKenzie and others warned that the production tax credit known as 45X under the IRA for manufacturers of clean technologies — including the batteries that go into electrified vehicles — could be worth more than US$1 billion annually for companies planning to build large-scale battery manufacturing operations in the U.S. and thus significantly undercut Canada's ability to attract similar investment.
"While the IRA is being presented in many quarters as key legislation to fight climate change, in reality it is an act of trade protectionism," MacKenzie said, "forcing the on-shoring of future powertrain production within the borders of the United States at the expense of all other countries, including Canada."
Article content
Washington has elected to take an all-carrot, no-stick approach to the problem of decarbonization, in sharp contrast to Canada's own carbon pricing regime, said Canadian Steel Producers Association president Catherine Cobden, who pointed out that U.S. steel producers will get the benefits of IRA investments and climate subsidies without facing equivalent carbon costs.
"We don't expect a dollar-to-dollar response with the U.S., but we do believe that Canada must further incentivize our capacity to both adopt and operate climate solutions such as hydrogen, renewable fuels, cleaner grids etc.," Cobden said.
Cobden also urged the government to assist Canada's heavy emitting industries in decarbonizing by matching the incentives for carbon capture and storage contained in the U.S. IRA — a call that echoed recent comments made by Canadian oilpatch leaders who are banking on the technology to enable the sector to maintain production in the face of increasingly stringent greenhouse gas emissions targets.
Article content
Navdeep Bains: Keeping up with the Bidens — Canada needs to up its climate change game

Ottawa tries to entice Canadian pensions to finance EV battery plants
Witnesses urged the government to indicate its willingness to introduce a suite of incentives to close the gap with the measures contained in the U.S. inflation act when Deputy Prime Minister Chrystia Freeland presents the government's fall economic statement on Thursday.
"At a bare minimum, we urge the government to at least signal to industry that the fix is on the way," said Flavio Volpe, president of the Automotive Parts Manufacturers' Association.
"Number two, the government must redouble their diplomatic efforts with the U.S. to tamp down 'Buy American' threats and promote 'Buy North American' approaches," he added.
• Email: [email protected] | Twitter: mpotkins
Listen to Down to Business for in-depth discussions and insights into the latest in Canadian business, available wherever you get your podcasts. Check out the latest episode below: